Q:

Is there any chance you know what the symbol on the holy candles from SH 4 is?

Anonymous
Im pretty sure just a generic religious probably catholic inspired symbol. I dont know.
[OLD POST] Eric Bossick to Mocap in a Metal Gear Solid Game. Could this be Metal Gear Solid 5?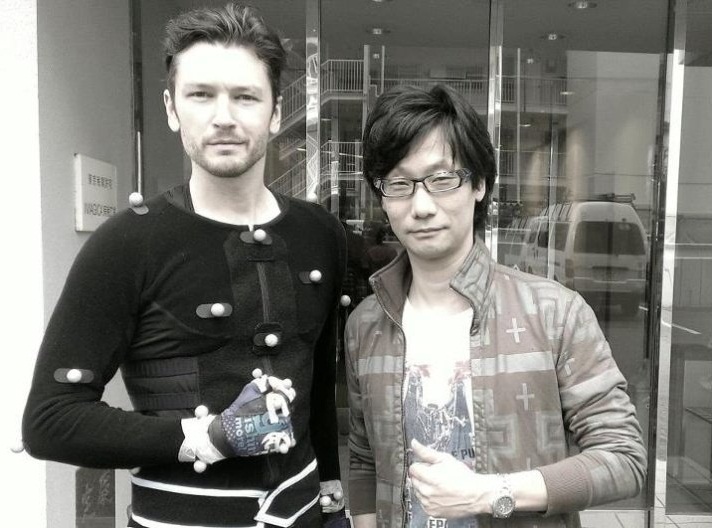 So this is a post I made back in August of 2012 where I caught wind of Eric Bossick's involvement in something Kojima/Metal Gear Solid after Kojima posted an image with him and I got an interview with Eric. Long story short the original post spread like wild fire reaching japan and had to be taken down by the request of Kojima/Konami and friends, but I mostly took it down from the request of my friend and first VA interview on this site Mr Bossick so major apologies to Eric but I also want to apologize to Hideo Kojima and Konami for spoiling anything early. I didnt want to jeopardize Erics contribution in MGS5 and im glad to say his motion capture is in Metal Gear Solid Ground Zeros! Go play the game and see if you can find the familiar movements of Henry Townshend! ;) Here is my original interview and post I conducted and published two years ago if anyone is interested.
This isnt Silent Hill but in a way Silent Hill related. Upon speaking to Silent Hill 4 protagonist's voice/mocap actor Eric Bossick he told me he was and will be working with Kojima under a Metal Gear Solid title. Here is our full discussion!
Troy Baker and Mary Elizabeth McGlynn perform an acoustic version of "Your Rain" from Silent Hill 4: The Room live at Metrocon 2014.
10 years ago today my favorite videogame franchise released its fourth installment Silent Hill 4: The Room and not only was it my first Silent Hill game that eventually led to my love for video games, story telling and fascination for all forms of psychological mediums, but it also bares some of my most valued memories with my best friend Dane Pitchford. We stayed up late in the dark of my upstairs apartment two feet from my television problem solving and going through the terrifying emotions of Henry Townshend as he was confined to his own haunted apartment room. I know those games have some great qualities like character development, gameplay and soundtrack but I know that a major portion of why I love this franchise is because of those memories I have completing that game with my best friend. Its the whole reason I am so involved with the Silent Hill community and why I have such a successful blog today. Thank you Dane. Miss you buddy.

To commemorate the 10th Silent Hill 4: The Room anniversary Silent Hill Memories chatted with Dennis Falt, the actor who had played Walter Sullivan in SH4 as well as had voiced over Mary's doctor in SH2, and asked him a few questions.
SHM.net: Please tell us some background info about yourself.
I've been a professional actor since I was a child. Got a BA degree in Theater Arts from CSUSF (California State University San Francisco). Move to Hollywood where I joined SAG (Screen Actors Guild). Worked in TV and film (Starred in SLITHIS) and voice over. Moved to Tokyo. For many years in Tokyo's Industry, I was declared a "Tokyo Super Star" by a national magazine. One of my more memorable films was GODZILLA. Also had a daily TV show for 11 years. Went to Hawaii for a while and acted in LOST, etc. Now back in Tokyo and very busy. Finished my first novel, SAXON BRIGHTLIGHT, TIME SURFER.
SHM.net: What did you like about your character? Was it easy or hard portraying him/her?
Frankly, it's been a long time since I did this, (and I do many of these), I can't remember anything about the character, even his name. Was it easy portraying him? This is my job, it's always easy, because I love the work. Sometimes I have to do 10 or more different character in one production, all very different voices. That's when I really have fun.
SHM.net: Do you remember some interesting or funny moments from your recording sessions?
Funny moments during recording? We had a break for lunch, and a few of us went to an Indian restaurant near the studio in Akasaka. Then during recording my stomach kept making weird noises, and we'd have to cut and go back many times. It was a bit embarrassing, but everyone else thought it was funny.
SHM.net: Are you a fan of horror (films/games)?
I am not a fan of horror films or games, no interest in them at all.
SHM.net: Silent Hill 4 featured hauntings and ghosts. Do you believe in these kinds of paranormal activity in real life?
I'm not sure if I believe in paranormal activity, but I do feel spooked when walking in a graveyard by myself at midnight, especially if there's an owl going "Hoo, hoo", or a crow cawing, or bats flying around. "Ain't nobody got time for that."
SHM.net: Would you do another Silent Hill?
Sure, I'll do anything if they pay me, and like I said, I love the work.
We have started doing videos where we explain theroies, trivia and facts about stories in games.My first video is based on the 21 Sacraments in SIlent hill 4.
It is a interesting 20 minute video where a narrator explains the ritual, the victims, the motives and the events surrounding the 21 sacraments and Silent Hill 4 story.
I hope you enjoy the video.
A small project of mine that I recently completed. A replica Silent Hill sign in roughly (1:8-1:12) scale. Goes well with the Gecco statues :)
First I would find people that wanted to make it and I would be certain that they were not copying from what has been done. A new Silent Hill would require some truly sick, dark people behind it. It is time to throw out the Silent Hill mold and try to ask ourselves again what it means to be scared. It requires a lot of inward looking. It isn't just about making slimy, squirmy things on screen. Fear is inside us and we have to look at it closely before we can make other people feel it.
Jeremy Blaustein, the Localization coordinator, VO director, motion capture director for SH2-SH4 is creating a new game! Click Here to see rewards for helping fund the project.
LIKE ZENITH FILMS ON FACEBOOK! THESE GUYS ARE CREATING AN AWESOME SILENT HILL FILM CALLED REQUIEM! THEY ARE RELEASING SCREEN SHOTS OF THE FILM!
Bloody Disgusting's Silent Hill retrospective.
What then is "horror"? Well, to me, "horror" is when it crosses into our personal space. When that place which is our own personal space, our pure sanctuary, is invaded by the impure and the external –that is when horror happens. The boogeyman in the night is "fear", the boogeyman under your bed or in your closet is "horror". Seeing a person with a twisted stump of a hand pumping blood is "fear", seeing your own is "horror". Seeing a maggot crawling on a lump of meat is "fear", seeing one crawl out of your infected wound is "horror". So many great filmmakers, writers and game creators understood this. Stephen King with his "shitweasels" in "Dream Catcher; David Cronenburg and his twisted transformed bodies; Silent Hill 4: The Room using the concept of invading personal space. The list is endless. To summarize, a killer with a knife, machete or chainsaw that is about to break down your door is fright. Finding that the killer is already in your home is horror. Discovering that the killer is actually you? That is psychological horror.
Good look at Toymunkey's Heather Mason and Original Bubble Head Nurse statues!
We will be entering the final quarter of the year soon and will hopefully see the release of Robbie and Heather before the year clocks 2014. While we didnt get any news on a new Silent Hill game we got some great exclusive high quality merch from Toymunkey. What do you guys think of Toymunkey Studios presence this year? Would you guys want more Silent Hill statues in 2014? SH4? SH1? Which statues would you like Toymunkey to work on next?
Toymunkey Studios
(American manufacture and distributor for the official Silent Hill statues and merchandise)