Q:
Which Silent Hill video game is your favorite and why?
Q:I like what you said about SH4 in that last question (about it being the scariest). I'm one of those people that actually think 4 may have been higher up in the series, as far as gameplay factors go. A lot of people were so focused on the fact that it wasn't a traditional SH (albeit, it wasn't originally supposed to be a SH) that they lost sight of everything else. SH4's story was probably one of the more in-depth out of the series because the team dared to rehash something else that allowed them to break away more from the original series. It was a dark story, and probably one of the most depressing games I've played. Not just that, but the entire game had this very dark feel that fit well with the series, and even the graphics enhanced this; they were a solid set of graphics with just a bit of grain and "taintedness" that added to the amazing soundtrack (which wins my vote as best all around from the series). And it indeed was the scariest of them. Okay, the ghosts were more annoying than anything, but trying to run from Cynthia's was enough to make anyone crazy. And don't get me started on the Twin Heads.

Just one quick last note on the whole rehashing bit. I'm a composer, and I understand how successful a rehash of something can be. Several parts and even some full pieces that I never used or liked in a certain form I took and made it for something else. It came out way better that way, and I'd like to think that's the same way I look at SH4.
everydayholidayfromreal-deactiv
Thanks! Silent Hill 4 was a great game even though like you said Team Silent intended for it to be a stand alone game separate from Silent Hill and Konami just wanted them to throw in the name Silent Hill and some cameo things. I guess thats why the game doesnt take place in Silent Hill. I did feel the sound track was very good as well but for me its hard to beat the OST for SH2, SH3 and even Shattered Memories.
Thanks for your input!
Q:Silent Hill is a pretty terrifying series all-round, but are there any particular moments that stand out as being the ones that the scared you the most?
an-alternate-reality-deactivate
Oh man good question. So many moments did Silent Hill scare me. I can think right off the bat the part in Silent Hill 2 where you knock on the bathroom stall and no one is there until you walk out and there is a loud bang and scream! Also when Heather hears a rustling in the mannequin room and she sees the bloody mannequin right after. The Haunted Mansion in Silent Hill 3 was very scary. I honestly think Silent Hill 4 was the scariest for me though I was young but it just seemed all too real with serial killing and an apartment and the whole occult thing. The whole game of SH 4 was scary.
And of course seeing Pyramid Head for the first time through the bars was pretty terrifying. Most of Silent Hills scares to me are like psychological scares not just jump out or gore scares more like mind fuck scares. Like even when the 4th button in the elevator of SH1 shows up but wasnt there before its was so scary cause I questioned my own sanity at that point and no one was there with me to witness or confirm it. There are so many more scares I could go on! Thanks for the question!
Q:Do you think you could tell me the order of the SH games. I keep forgiving who's who! Thank you!
peterjasonquillstarlord
In order of release date:
Robbie wants YOU to play Silent Hill…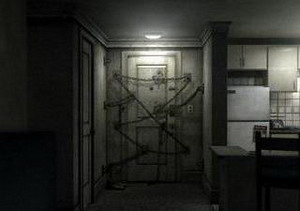 Ok readers listen up, this is a whopper of a Novel but is complete and it is fantastic! A 65 chapter novelized version of Silent Hill 4: The Room by the wonderful D. Natali.
In a story of a man who finds himself trapped in his apartment room, his only exit a mysterious hole that has materialized in one of the walls, with no clue as to what's waiting on the other side.
To read Silent Hill 4: The Room Novel click the link above or click here.
Its Fan Art Sunday again! Submit your personal or favorite Silent Hill fan art to us here. Feel free to link your Blog for exposure :)